It's time to get Romantic in Prague
3.7.2023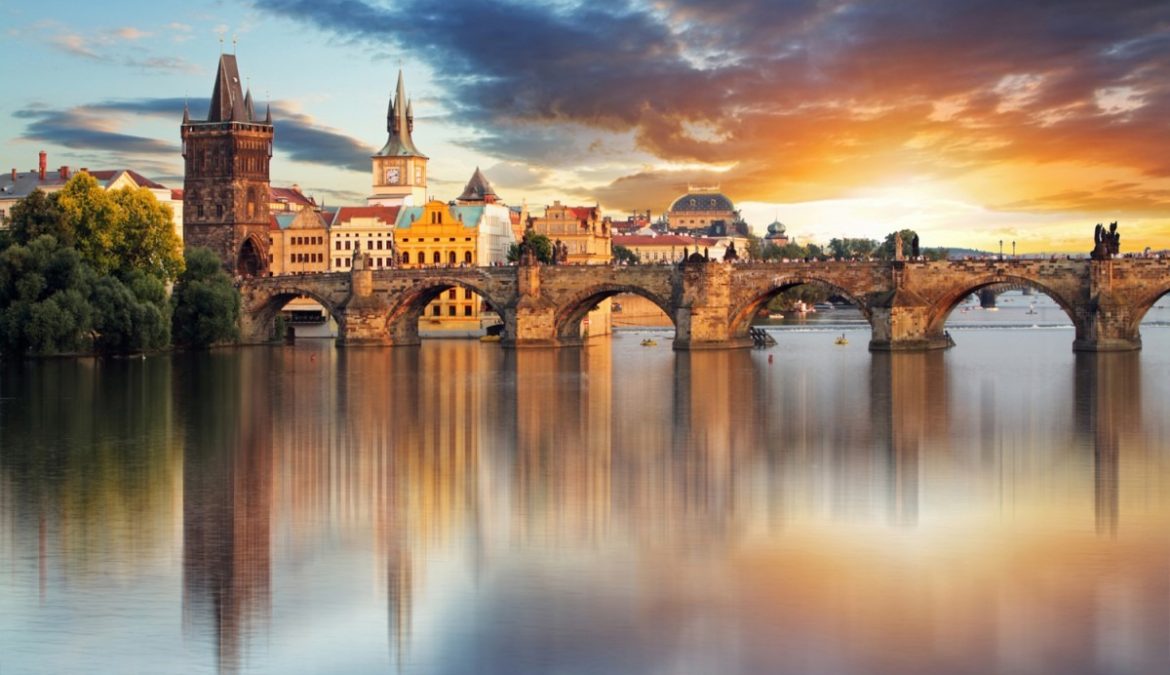 Photo: © TomasSereda/iStock/Thinkstock
Impressive Art Nouveau architecture, stunning river views, charming public parks, gilded cafés and candlelit cellar bars – Prague is a magnet for those seeking a dash of the romantic. If you're looking to treat your special someone you've come to the right place – there has never been a better time to get romantic in Prague. From twilight strolls, to opera evenings, you're never too far from an amorous activity in the city.
The Dancing House
What could be more romantic than a gorgeous dinner date? The Dancing House is named (and also physically resembles) a couple entwined in dance. A famous Prague landmark, The Dancing House was designed by Vlado Milunić and Frank Gehry in the mid-90s. Themed after the frolicking star duo, the Ginger & Fred Restaurant invites diners to enjoy French fine dining cuisine while dreamily gazing over the Vlatva River.
Garnets are forever

Forget diamonds being a girl's best friend, while you're in Prague it's garnets that you should be looking out for. Bohemian garnets are, in fact, said to be amongst the world's finest, and are found in jewellery shops across the city. Granát Turnov enjoys several outlets across the city stocking high-quality, authentic stones.

St Nicholas Church
Follow up your treat at the jewellers with a stop at St Nicholas Church – the historic building that closely resembles a trinket box from the inside. Admire the colourful frescoes and soaring vaults, or attend one of the church's alluring candlelit concerts while wooing your loved one against the backdrop of this High Baroque beauty.
The Estates Theatre
Enjoy a night out at the opera, complete with private box. This shimmering historic theatre once served as a stage to some of the greatest musicians of all time, including Mozart, and is today open to the public with a taste for the finer things in life. Prague's Estates Theatre offers culture aficionados the opportunity to attend several concerts along the year, including the famous Don Giovanni by Mozart that premiered there in 1787.
Charles Bridge
Unexpectedly, Charles Bridge is one of the city's most iconic landmarks, but putting its popularity aside, this famous bridge represents an essential stop for anyone seeking to be romantic in Prague. Schedule your stroll across its cobbled walkways by twilight and take in the flickering streetlights and glimmering statues, as the sun sets peacefully behind.
U Maliru
Back in the day, U Malířů housed several Holy Roman Emperors including Rudolf II, and today opens its doors to one of the most romantic opportunities in Prague; a dinner fit for a king – or queen for that matter. Expect a regal evening complete with flickering candelabras and freshly pressed white tablecloths, while admiring the elaborately painted ceiling vaults. Throw in a bottle of excellent Moravian wine and you've suddenly got a recipe for success.

The Petřín Hill Gardens
As one of Prague's greenest outdoor spaces, the Petřín Hill rosarium ranks highly amongst those seeking a romantic Prague meander. Enjoy its sprawling parklands and enchanting views, stroll around the historic botanical gardens, climb atop the Observation Tower, or simply relax on the lawn and enjoy a picnic with a view.
St Wenceslas' Vineyard
There's no need to leave the city to sample some of Bohemia's most prized vintages. Simply wander into St Wenceslas' Vineyard, located along the southern slope of Prague Castle, and cosy up with a glass of Pinot Noir or Riesling – or two. Rumour has it that the Saint himself once tended to the vines, and who are we to deny it.
Au Gourmand
If your loved one's got a sweet tooth it's very hard to top Au Gourmand. In a city filled with grand chefs and fabulous patissiers, Au Gourmand steps up your romantic Prague endeavours a notch by offering decadent treats in an equally stunning surrounding. Opt for a delicate Mille Feuilles, or the divine Gâteau chocolat sacher, which is a must for any chocolate lover.
Public Interest Cocktail Bar
While its beer supply is never-ending, and its vineyards infinitely sprawling, Prague's mixologists are also definitely worth a mention. Head down to Public Interest if you're in the mood for sipping high-end cocktails in a sultry industrial setting, while looking into the eyes of your better half. The offering is an eclectic mix of modern and historical concoctions, including the bestselling lavender gimlet, which is definitely one worth lingering over.