Five Must Visit Places in Prague's Jewish Quarter
6.7.2018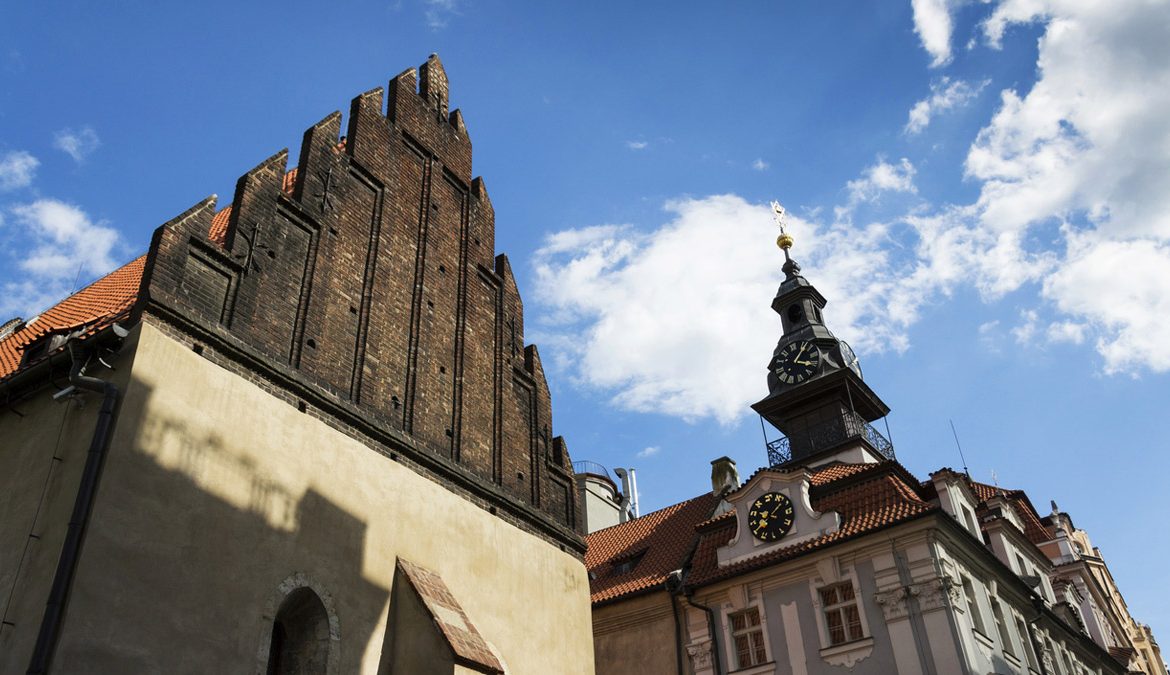 Photo: Prague Jewish Quarter | Old New Synagogue © iStock/josefkubes 
Prague's Jewish quarter, Josefov, may be small in size but it packs a powerful punch when it comes to character and history. Named after the Holy Roman Emperor, Joseph II, whose reforms made life a little easier for the Jews of Prague, the Jewish quarter has seen everything from the birth of Franz Kafka to the hiding of the Golem. Here, we explore its maze of back-alleys and narrow lanes to uncover the best places to visit on a trip to this captivating corner of the city.
Spanish Synagogue
It might be the newest of Prague's six synagogues—it wasn't built until the mid 1900s—but the Spanish Synagogue is arguably the most beautiful. This unusual building is worth a visit on account of its Moorish architecture and ravishing golden interior. The style of the building is said to have been inspired by Alhambra in Spain, and the unconventional architecture was a fitting symbol of the progressive attitude of the reform Jews who worshipped here.
Old Jewish Cemetery
Expect a poignant atmosphere at this site of 12,000 crumbling stones and 10,000 graves. Some of its most conspicuous are those of Mordecai Maisel, the Jewish finance minister who managed to negotiate the alleviation of the Jewish ghetto's strict rules and regulations, as well as Avigdor Kara, court poet to King Wenceslas IV.
Kafka's Birthplace
The birthplace of Prague's most famous writer, (author of The Trial, The Castle and The Metamorphosis), Franz Kafka, is marked by a plaque in Josefov. He lived on the corner of Kaprova and Maiselova streets for two years (1883-1885), until the Kafka family moved to a house on Wenceslas Square.
Golem Bakery
The legend of the Golem in Josefov dates back to the 16th century. The most popular story tells the tale of Rabbi Judah Loew ben Bezalel, who created the Golem from clay found in the riverbanks, in order to defend Prague's Jewish community from persecution. Some versions of the story suggest that the Golem was eventually destroyed (and his remains interred at Old-New Synagogue), whilst others imply that the creature still stalks the streets of the neighbourhood. You might not be lucky enough to see the Golem for yourself but you can take home a bite size biscuit version instead, courtesy of Golem Bakery. These lightly spiced, caramel flavoured biscuits make a sweet souvenir or delicious snack on your tour of Prague's Jewish quarter.
Jewish Museum
Made up of a collection of four synagogues rather than a single site, the Nazis shockingly preserved the Jewish Museum as their intended symbol of "an extinct race". Today, it stands instead as a symbol of survival, and of the history and heritage of the Jews who lived in Josefov. Entrance to the museum includes access to the Spanish, Pinkas and Klausen synagogues, as well as the cemetery and Ceremonial Hall.